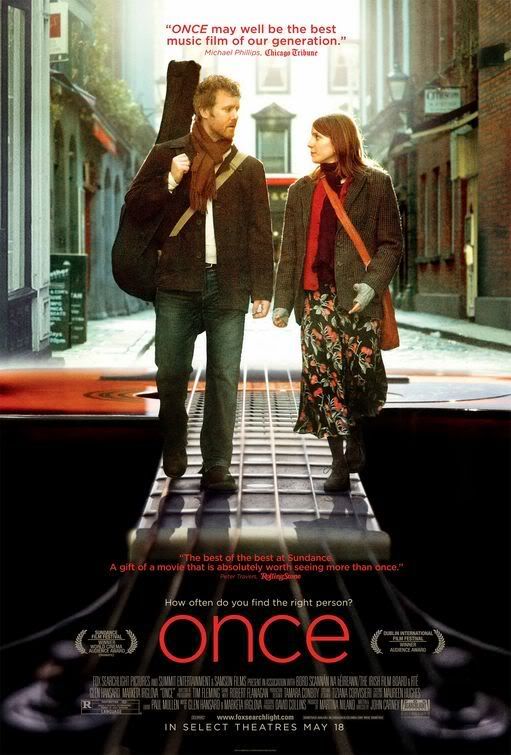 Once
Its finally out on DVD, and a must-see for true music aficionados. Felt that my one-liner in a previous blog post about this breakout Sundance indie flick, didn't do it justice.
Once
was the simplest, quirkiest film I have seen. Until you watch it, you could never imagine that a movie like this could keep you hooked with enrapt attention for 85 minutes. The biggest star of the movie is, without a doubt, the
music
.
Irish Glen Hansard and Czech Marketa Irglova create an emotional and spirited sound, which have a goosebump-inspiring, magnetic ability to be enchanting. The piano/guitar gives it a very early Coldplay feel, but much more heartfelt and amateur and "real". My favorites are "The Hill", "When your mind's made up", and of course, "Falling Slowly". The dreamy scene in the music shop which shows the birth of this song, is an example of classic cinema. I must have seen that sequence at least 5 times, because it was one of the most beautiful things I've ever seen.
The movie is free of cosmetics, and extremely raw, which adds to its appeal. Highly, highly recommended, as is the soundtrack, which you should get only after watching the movie.
What
Once
really makes me perceive, is that there is a very small subset of emotions that an audience requires to be captivated - its a movie that gives hope to artists, musicians and film-makers on so many levels. The chemistry between Hansard and Irglova is bittersweet and charming.
Once
is a movie that makes you .. believe.